Troodos Development Company (ΑΝΕΤ)
---
The Region of Troodos is located in the center of Cyprus streching accross most of the southeastern part of Cyprus. It covers a significant part of the Troodos massif, considered the island's highest peak, reaching up to 1952 meters altituded and it covers an area of 829km2. Troodos Region is divided into 5 sub-regions; Pitsilia in the east, Marathasa valley in the north, Solea Valley in the South and Wine Villages and Commandaria Villages in the west. All five regions include a total of around 62 communities each of which has its own Council. Troodos is a low density inhabited region and its popultion is about 14.834 inhabitants.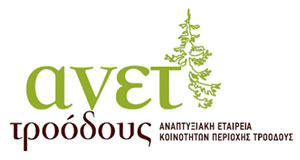 Rurality
Most villages in the Region are small and have less than 500 inhabitants. Typical products produced in the Region include fruits and vegetables, wine and wine products.
Troodos National Forest Park covers an area of 9,337 hectares around the Olympus Mountain. Its geological setting includes a well-preserved ophiolite complex, created from oceanic crust 90 million years ago. The Forest Park is well known for its rich and biodiverse flora and fauna.
Tourism
Troodos is renowned since antiquity for its dense forests and rich mines. It provided timber and copper for the construction of ancient ships and weapons that fought the battles and naval engagements of the classical era. In Byzantine times it became a centre for religious art, as monks and ordinary folk built and decorated superb churches and monasteries, away from the regularly raided and pirate savaged coastal lowlands. Nature has been particularly generous to Troodos. Its lower slopes alternate between terraced vineyards and the Phoenician juniper maquis, found in abundance near the coast, sprinkled in places with pink rock rose and wild lavender. Bright green pine trees and majestic cedars dominate in the higher elevations. It is an area of extreme natural beauty throughout the year. Whether escaping the summer heat, walking or cycling along scenic routes in spring or autumn or sipping a hot beverage after a demanding skiing descent in winter, Troodos is the place for all seasons.
Tourism development
Troodos provides a wide range of hotels, stone buit traditional houses and agrotourism complexes for accommodation and hosting, and for the organisation of small scale seminars/conferences. There is a choice of nearly 2,000 available beds, in different types of licensed  tourist establishments, from basic village accommodation to 4*star hotels. The region offers an abundance of things to do and see. It is an area of fresh air, winding nature trails and scenic panoramas. Walking or cycling through forests on mountain trails, attending village festivals, experiencing local traditional gastronomy, or discovering cultural treasure of UNESCO World Heritage churches are among the main pursuits. Birdwatchers, botanists, geologists, ramblers, bikers, photographers and nature lovers seeking a relaxing break away from the cosmopolitan coastal resorts will be delighted.
Rural development
One of the main aims of Troodos Development Company  is the promotion of sustainable tourism in the region, that is the protection and enhancement of the unique natural environment of high ecological value and the preservation and promotion of the rich history and tradition of the mountain villages.  Each of the five sub-regions has its own individual characteristics and tourism potential. These characteristics are reflected in the Strategy for the Sustainable Development of Tourism in the Region, whose main purpose is the combination of the tourism products of the sub-regions with the view of creating a completed tourism "brand". The newly adopted brand name of the region is "Trooding". Trooding is a tailored tourist package that meets the specific needs of Alternative Travelers.  The regional approach of tourism development in the area is expected to provide solutions for sustainable use of resources together with the exploration and enjoyment of the Region's rich natural and historical beauty.
The Company
Troodos Development Company ( AN.E.T.-gr- ) is a team of local enthusiasts as well as experts, to offer solutions and consulting services to local communities and private sector .
The company was established in January 2009 as a corporation without share capital , non -profit organization, and includes 78 community councils  / 21.000 people in Troodos wider region
Vision
"To support and promote the transformation of Troodos mountains into a single development entity and enhance  the area as an attractive place to live with a distinct local economy based on the rich cultural heritage, consisting of unique geology, rich flora and fauna, as well as gastronomy, history and folklore elements"
The objectives and fields of action of the company as follows:
Improve quality of life for local residents

Attract new residents

Organize events (regional cooperation / traditional groups / local products)

Promote Byzantine Cultural Heritage "Unesco"

Introduce agro tourism within local gastronomy and services

Tourism Development

Improve agricultural income (Designation of Origin, Agribusiness, Information update - service and train the producers)

Create and promote arts and crafts

Promote the cooperation (cooperation and networking companies)

Study the protection and revival of the area

Natural environment

Culture and tradition

Social Solidarity

Mountain Sports

View the status and identity of the region (highlight - view of the physical characteristics and uniqueness of the natural wealth through various operations of the company)

Cooperation with the government machinery to solve chronic problems

Utilization of local energy resources

European and other funding programs
Currently our company, following the strategic plan implements the following programs: 
1. Cross-Border Greece - Cyprus 2007-2013

1.1 GEOTOPIA: Delineate and Promote Troodos Geopark www.troodos-geo.org

1.2 Topon Eforia: Train and Educate  local producers - Improve distribution and market share of the traditional products (marketing and packaging)  www.toponeforia.eu

2. INTERREG 4C:

2.1 CESR - Employment in rural areas in reasonable self catering agrotourism www.cesr-project.eu

 

3. LEADER - Local Action Group - RDP 2007-2013

3.1 Transnational Project: GEOPRODUCTS (LOCAL QUALITY MEMORANDUM)

3.2 Transnational Project: Small Mediterranean Stories (Upgrade cultural festivals - Apple, Rose, Zivania, Koumantaria)
---
Address: 139 Archbishop Makarios III, 2728 Galata
Tel: 22952043, 22952004
Fax: 22952045
E-mail: klelia.anet@cytanet.com.cy
E-mail: georgia.anet@cytanet.com.cy
E-mail: lenia.anet@cytanet.com.cy