Global Geoparks Network GGN of UNESCO
---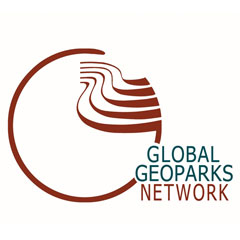 The Executive Board of UNESCO, to support the efforts of the Member States to highlight areas or nature parks with particular geological features, decided in 2004 to propose the creation of Geoparks, designed the preservation and promotion of geological heritage of each region.  The Commission recognizes that the geological structures and landscapes have obvious influence on the development of societies, human culture and cultural diversity of the world, decided to establish the Global Geoparks Network under the auspices of UNESCO.
An area to be designated by UNESCO as a Geopark, must have a special geological heritage and also be able to document the importance of the area through archaeological, ecological, historical or cultural interest.
The members of the Global Geoparks Network of UNESCO cooperate among them, with state authorities, local communities and individuals to promote and implement methods for conservation, enhancement and sustainable management of geological heritage.
By October 2012 the members of the Global Geoparks Network reached 90 in 27 countries.
Austria

Nature Park  Eisenwurzen
Carnic Alps Geopark

Brazil
Canada
China

Alxa Desert Geopark
Daniashan Geopark
Fangshan Geopark
Funiushan Geopark
Hexigten Geopark
Huangshan Geopark
Jingpohu Geopark
Leiqiong Geopark
Leye-Fengshan Geopark
Longhushan Geopark
Lushan Geopark
Ningde Geopark
Qinling Geopark
Songshan Geopark
Stone Forest Geopark (Shilin Geopark)
Taining Geopark
Taishan Geopark
Wangwushan-Daimeishan Geopark
Wudalianchi Geopark
Xingwen Geopark
Yuntaishan Geopark
Yandangshan Geopark
Zhangjiajie Sandstone Peak Forest Geopark
Zigong Geopark
Tianzhushan Geopark
Hongkong Geopark
Sanqingshan Geopark
 

Croatia
Czech

Bohemian Paradise Geopark

Finland
France

Park Naturel Regional du Luberon
Reserve Geologique de Haute Provence
Bauges Geopark
Chablais Geopark

Germany

Geopark Bergstrasse – Odenwald
Geopark Harz braunschweiger Land Ostfalen
Geopark Swabian Albs
Nature Park Terra Vita
Vulkaneifel Geopark

Germany / Poland
Greece

Chelmos-Vouraikos Geopark
Petrified Forest of Lesvos
Psiloritis Natural Park
Vikos-Aoos Geopark

Hungary

Bakony-Balaton Global Geopark

Hungary / Slovakia
Island
Indonesia
Ireland / North Ireland

Marble Arch Caves & Cuilcagh Mountain Park
Copper Coast Geopark
Burren and Cliffs of Moher Geopark

Italy

Rocca Di Cerere Geopark
Adamello Brenta Geopark
Parco del Beigua
Madonie Natural Park
Geological and Mining Park of Sardinia
Parco Nazionale del Cilento e Vallo di Diano
Tuscan Mining Park
Apuan Alps Geopark

Japan

Toya Caldera and Usu Volcano Geopark
Itoigawa Geopark
Unzen Volcanic Geopark
San'in Kaigan Geopark
Muroto Geopark

Korea
Malaysia
Norway

Gea-Norvegica Geopark
Magma Geopark

Portugal

Arcouca Geopark
Naturtejo Geopark
Azores Geopark

Romania

Hateg Country Dinosaur Geopark

Slovenia – Austria

Karavanke/ Karawanken Geopark

Spain

Cabo de Gata-Nijar Geopark (Andalusia)
Maestrazgo Cultural Park
Sobrarbe Geopark
Subeticas Geopark
Basque Coast Geopark
Villuercas Ibores Jara Geopark
Sierra Norte di Sevilla (Andalusia)
Central Catalonia Global Geopark

Great Britain

Geopark Shetland
Geo Mon Geopark (Wales)
Forest Fawr Geopark (Wales)
North Pennines AONB Geopark
North West Highlands (Scotland)
English Riviera Geopark

Vietnam
Συνδέσεις:
---
» UNESCO Global Geoparks (English) 
» UNESCO Global Geoparks (French) 
» UNESCO Global Geopark Information Sheets