UNESCO World Heritage Sites
---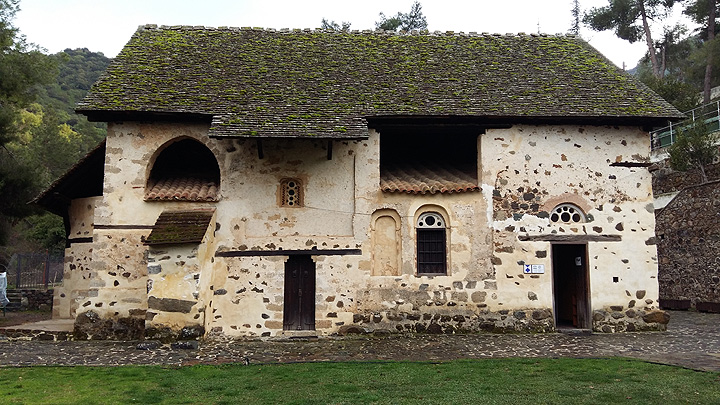 Agios Nikolaos Tis Stegis, Kakopetria
A unique Byzantine heritage is scattered in the pine forests and villages of the Troodos mountain range revealing the island's religious heritage through numerous hagiographed churches and grandiose monasteries built during the Byzantine Empire.
Ten (10) of these churches dating from the 11th to the 16th century, are included in the UNESCO World Heritage List for their murals and unique architecture. Visitors can wander through the areas of Pitsilia, Solea and Marathasa to discover them and admire their unique steep-pitched timber roofs and chunky wooden doors that open up into an array of vivid icons and frescoes depicting Saints, Apostles and stories from the Bible in all their colorful glory.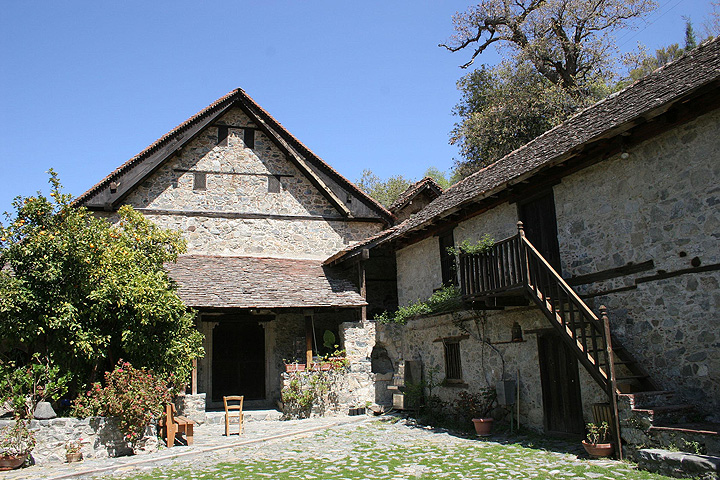 Agios Ioannis (St. John) Lampadistis Monastery
Pitsilia
Timios Stavros tou Agiasmati (The Holy Cross), Platanistasa; (Tel: +357 99677216)
Metamorfosis tou Sotiros (Transfiguration of the Savior), Palaichori, (Tel: 99828700 & 97790830
Timios Stavros (The Holy Cross), Pelendri (Tel: +357 99909393 /+357 99662286)
Panagia tou Araka, Lagoudera, (Tel: +357 99557369)
Solea
Agios Nikolaos Tis Stegis, Kakopetria; (Tel: +357 99484423)
Panagia (The Virgin) Podythou, Galata; (Tel: +35799348735)
Panagia Phorviotissa (Asinou), Nikitari; (Tel: +35799830329)
Marathasa
Agios Ioannis (St. John) Lampadistis Monastery, Kalopanagiotis 96426686
Panagia (The Virgin) tou Moutoulla; (Tel: +357 97733480)
Archangelos Michael, Pedoulas, (Tel: +357 99459946 /+357 99577816)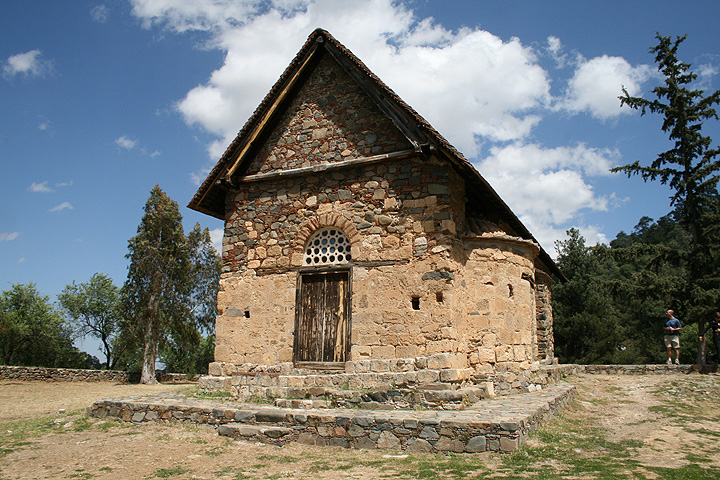 Panagia Phorviotissa (Asinou), Nikitari
In the following link you can read and learn more information about the Byzantine churches: Geology an UNESCO Byzantine Churches
---
Monasteries
Troodos hosts some of the oldest and most significant monasteries of the island, as in Machaira, Kykkos, Trooditissa, Omodos, Mesa Potamos and Agrokipia.
The monastery of Timios Stavros (Holy Cross) at the village of Omodos was founded before St. Helen's arrival in Cyprus in 327 AD, while after her visit she donated a piece of the Holy Rope and the Holy Cross to the Monastery.
The Kykkos Μonastery was founded sometime between the end of the 11th and the beginning of the 12th century. It is dedicated to Virgin Mary and possesses one of three famous icons attributed to Apostolos Loukas the Evangelist. (Tel: +357 22942736).
The Machairas Μonastery which was founded in the 12th century, is dedicated to Virgin Mary and hosts the miraculous icon of Panagia Machairiotissa that is believed to have been hagiographed by Apostolos Loukas. (Tel: +357 22359334).
The Mesa Potamos Monastery, dates back to the 12th century and is dedicated to the Timios Prodromos (St. John the Baptist). (Tel: +357 25820520).
The Trooditissa Monastery was built in 1731 and hosts the silver gilded precious icon of Panagia (Holy Mary) from Asia Minor. Prayers to the holy icon of Panagia give hope to many couples wishing to have children. (Tel: +357 25421663).
In Agrokipia lies the church of the Μonastery of Agios Panteleimonos of Acheras with interesting icons and a wood carved iconostasis, characteristic of the ecclesiastical art under Ottomans rule. (Tel: +357 22632345).
Discover the churches, chapels and monasteries of the area and through a journey of faith, history and culture your heart will fill with enlightenment, serenity and devotion.