Environment
Troodos and its inseparable relationship with Water
---
The impressive topography created by the uplifting of the Troodos mountain range has had a direct influence not only on the natural environment but on every aspect of life and culture in Cyprus. Naturally, the presence of the mountains affects climate conditions and rainfall in particular. Specifically, on the top of Troodos the average annual rainfall exceeds 1,100mm, while on the island's plains it is just 300mm.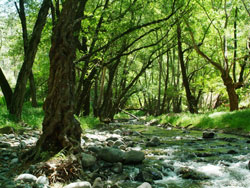 According to rainfall statistics for the last 100 years, the total precipitation (rain and snow) on the island amounts to 4,600 million cubic metres per year. Of this, 3,500 million cubic metres (approximately 80%) returns to the atmosphere through evaporation and transpiration while 600 million stays on the surface, most of it being held in dams and flowing to the sea. As for the remaining 450 million, this water penetrates the ground and enriches underground aquifers.
The tectonic movement that accompanied the uplifting of Troodos caused intensive fragmentation of the rocks and made them permeable, resulting in the flow of large volumes of water to great depths along faultlines, the creation of aquifers and the discharge of springs at various altitudes. These springs have played a crucial role in the development of adjacent settlements, both in antiquity and in more recent times since they supplied water all year round, in a country without rainfall for the greater part of the year.
At the same time, in normal winters, most of the island's large rivers have a relative flow of water while during the dry months the water comes mainly from the springs to the river basins.