Tourism
A new kind of tourism and an exciting circular route… on just two wheels
---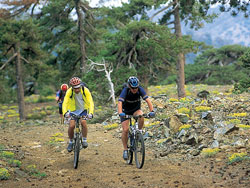 Driving around the Troodos range, from Karvounas to Platres and Prodromos, you will see a blue line along the road. Many people wonder what it's for since until recently it was not even part of the island's Highway Code. It actually indicates the first cycling network in Cyprus, covering a total of 57 kilometres, alternating between asphalt roads and dirt tracks and forming a complete circular route within the Troodos National Forest. 
In other words, the infrastructure is being put in place for an alternative type of tourism – sports tourism – which is mainly for experienced cyclists as far as the dirt tracks and their relative level of difficulty are concerned. It is expected to attract a large number of foreign cyclists, since Cyprus is now on the map of the cycling routes that stretch right across Europe in the context of the European Cycling Federation's EuroVelo programme.
The Troodos perimeter ring is divided into three sections:
The first cycle route (16.2km in length) starts from the Psilo Dendro restaurant at Platres and continues to Karvounas.

 

The second (22.7km in length) starts at Karvounas and continues all the way to Prodromos, while the third (18.2km long) starts from Prodromos and ends at Platres.

 

There are immediate plans to create another route in the Solia Valley.